I am not the next Pac or Biggie

Nor Erykah, Jermaine Cole, or Ms. Hill

Their expertise is deep instilled

My knowledge is unripe, and uprooted

The JMB of poetry

Misunderstood but appreciated

Voices of a libraries walls

Our gifts louder than 42nd Street

New Yorkers at heart

Foreign by blood

Bohemian by passion

Do what you feel

Three spiked crown

One more than Lucifer

Brain graffitied by illness

Hands graffitied the illest

–ShySheenOfficial

[02/13/14 8:03 PM]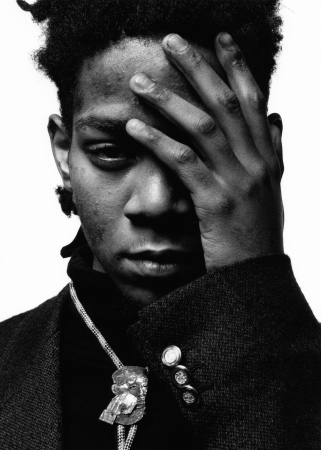 Jean-Michel Basquiat can be described as three things: misunderstood, misguided, and a legend. Misunderstood by many. Misguided by few.  A legend to all.
Although his life was short lived, he accomplished things he could only dream of. Basquiat went from sleeping in a cardboard box, in an NYC park, to a well sought-after artist. He started off as a graffiti artist, by the name of SAMO, and is now the most well-known painter of his time. His name, and art lived on long after he died.
Through all the judgment and criticism, he never changed who he was, or his artwork. JMB inspires me to never conform. I am going to continue to do what I love, and do it my way. All while trying to keep myself together, and remain humble.
Being the "I like art" type girl that I am, I had heard the name Basquiat before. However, I never really knew his story, until the summer of 2013. I came across the documentary Jean-Michel Basquiat: The Radiant Child on Netflix. After watching it, I was hooked. My journalist instincts kicked in, and I began doing research. It's safe to say, I became a little obsessed with him, and his journey. I watched the documentary an embarrassingly amount of times. (I am only obsessed with two people, both legends. Robert Nesta Marley, and Jean-Michel Basquiat. I am just cool like that.)
This summer I watched his bio-pic Basquiat, also on Netflix, and fell in love with his story even more. (This is not a Netflix advertisement, I swear.) Jeffrey Wright, did an amazing job as Basquiat, in his break out role.
The photos of Basquiat, that are being circulated now, are all the same. They show off his dreadlocks, in his signature hairstyle, and are most likely in color. I want to shine a light on the creator behind the hair, and the colorful masterpieces. A simple, black and white head-shot captures him perfectly.