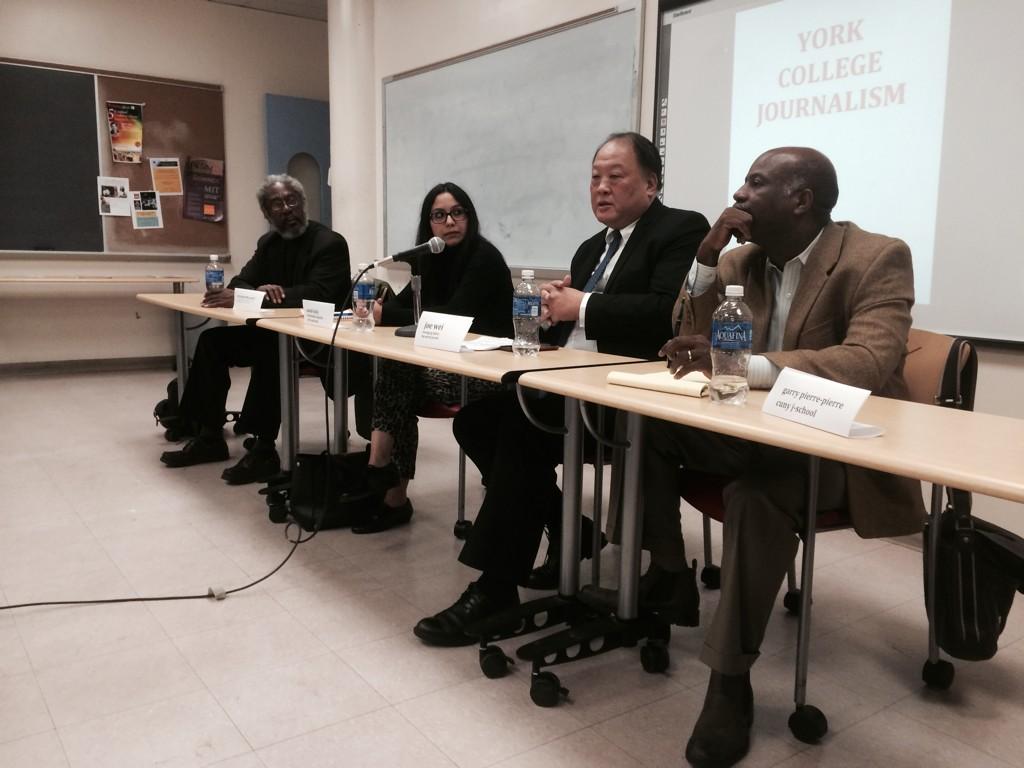 The Journalism Enrichment Seminar on International Reporting, held today at CUNY York College, was very enlightening. The panel included Fritz-Earle McLymont, Sadef Kully, Joe Wei, and Garry Pierre-Pierre.
Fritz-Earle McLymont is not a journalist, he is the Managing Director at NMBC Global; however, he uses journalism to make business decisions. Although McLymont is not in the journalism field, his perspective on journalism was refreshing. Being on the outside looking in, McLymont continuously reminded the student journalist to be accurate, responsible, and clear when writing articles. McLymont also encouraged the students to be passionate about what they are reporting on.
Sadef Kully, is a freelance multimedia journalist. As a former York College journalism student, Kully was an inspiration. Especially, after professor Glenn Lewis' blunt statement that "we're living in a shrinking field." Kully assured the students that the journalism world is "tough, very, very tough, and very competitive." Before doing some reporting in the Middle East, Kully read many books. She studied books on the Middle Eastern culture, politics, and history. Due to an unfortunate event, she had to return home to the United States. However, the knowledge, and experience she gained remains with her.
Joe Wei, Managing Editor of the World Journal, was fairly quiet throughout the seminar. Nonetheless, he gave the students advice such as, when reporting outside the United States, learn the language, and speak to the average, everyday people. After professor Lewis' shameless plug for his Digital Journalism course next Fall, Wei told the students, the most desirable journalist, that employers seek, are journalist who can do more than one thing. For example: video or photography.
Garry Pierre-Pierre is the Executive Director of the CUNY Graduate School of Journalism's Center for Community and Ethnic Media. I recently wrote about Pierre-Pierre, and his website Voices of NY, so I was excited to see him on the panel. Like Wei, Pierre-Pierre suggested that the students learn about different cultures, and have a connection with the people.
"A good reporter should be able to walk into any community, and come out with a story," said Pierre-Pierre.
Although knowing another form of journalism makes you more employable, Pierre-Pierre says that writing has to become second nature. Writers do not write solely for the income, because honestly it does not pay much, it has to be your passion.